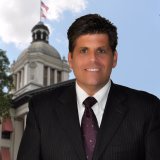 John Reid is an attorney with over a decade of experience in Florida's legal, political and government arenas. John began his career as Legal Counsel to a prominent member of the Florida Senate and later served as Special Counsel to a prominent statewide trade association in Tallahassee. John served as General Counsel to Lawson & Associates, a lobbying and communications firm founded by former Florida Senate Minority Leader Al Lawson. The firm's clients included a respectable list of organizations within the corporate, nonprofit and political arenas.
John holds an impeccable reputation among political circles, managing political campaigns from Congress to state legislatures to county and city commissions. In 2010, John managed one of the highest profile Congressional races in the State of Florida. John also served as the Political Director the Florida Senate Minority Caucus during the 2006 and 2008 election cycles.
Currently, John is a Partner at the law firm of Dickens Reid PLLC, where he handles administrative, insurance, corporate and family law cases. John is also a corporate consultant with Florida Innovation Group.
A graduate of the University of Miami School of Law, John is licensed to practice law in Florida and the District of Columbia and before the United States Supreme Court. John currently lobbies before the legislative and executive branches.